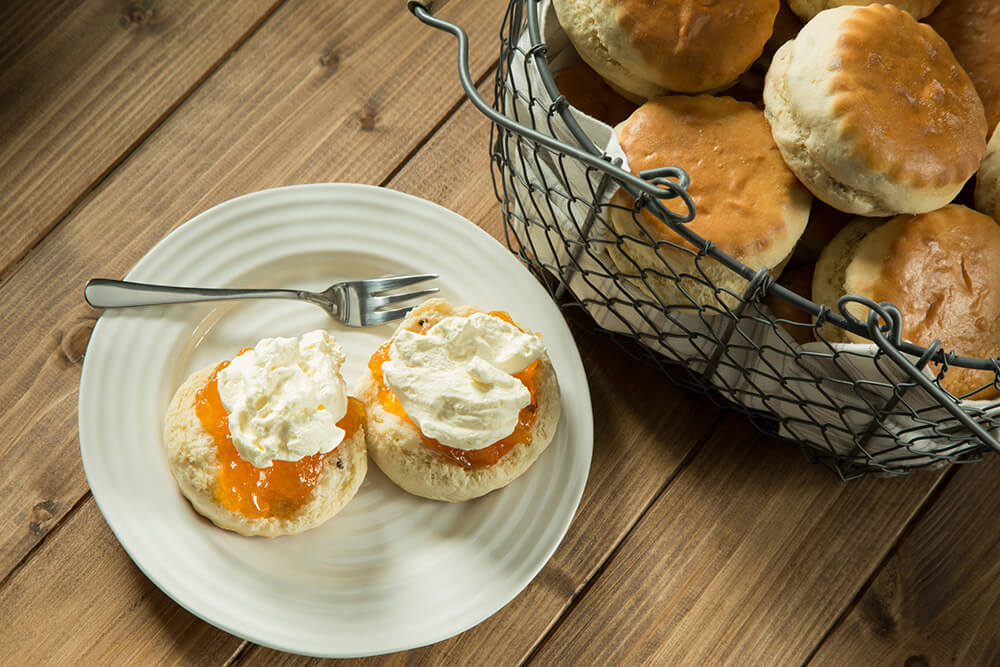 Ingredients
Click
to Add/Remove item to your
Shopping List
Macphie Ultra Scone Concentrate Make Up Instructions
Email Recipe
Download Recipe
Print Recipe
Macphie Ultra Scone Concentrate is a concentrate for producing deliciously soft and light premium scones.
Method
Thoroughly blend Macphie Ultra Scone Concentrate and flour together before adding vegetable oil/margarine and cold water. (Add any fruit at the end of the mixing time).


Mixing Time:

Conventional Mixer- Using a beater, mix for 1 minute on first speed. Scrape down. Mix for a further 1 minute on second speed. 

Spiral Mixer- Mix for 2 minutes on slow, followed by 3 minutes on fast speed. 

High Speed Mixer- Pre-blend powders for 10 seconds. Add vegetable oil/margarine and water and mix for 15-20 seconds. Scrape
down. Mix for a further 10 seconds. 

Process as normal. Allow scones to rest for at least 15 minutes before baking.


Oven Conditions- Bake for approximately 12 minutes at 440°F (226°C).


Hot Plate Conditions- 3½ minutes each side at 390°F (200°C).


Notes:

For an even lighter eating fluffier scone, 300g (10½oz) of yeast may be included in the above recipe. A longer rest period of at least 30 minutes is recommended prior to baking.

Margarine can be used instead of vegetable oil for a softer scone.

For guidance, fruit should be added at 20-30% dough weight towards the end of the mixing time.