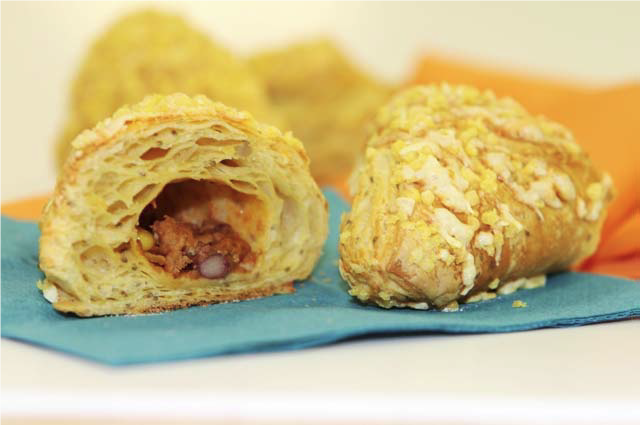 Ingredients
Click
to Add/Remove item to your
Shopping List
Email Recipe
Download Recipe
Print Recipe
Method
Filling "Chilli con Carne": 

Minced meat  0.500 kg


Kidney beans  0.500 kg   

Sweetcorn  0.200 kg 

Pepper, salt, paprika, chilli powder q.s. 

Tinned tomatoes  0.500 kg 

Total weight  1.700 kg




Mixing time: 3 + 2 minutes 

Dough temperature: 23° C 

Bulk fermentation time: 30 minutes (in the fridge) 

Scaling weight: as desired 

Intermediate proof: none 

Processing: filled triangles 

Final proof: approx. 30 minutes 

Baking temperature: 210° C 

Baking time: approx. 18 minutes 

Fold in 0.250 kg – 0.300 kg (09 oz – 11 oz) shortening per kg dough (02 lb 04 oz) with three single turns. After the bulk fermentation time, roll the laminated dough out to a thickness of approx. 3 mm. Cut into squares, fill with approx. 0.020 kg (01 oz) of the chilli con carne filling and fold into triangles. If desired, dip into grated cheese. After the final proof, bake giving steam.