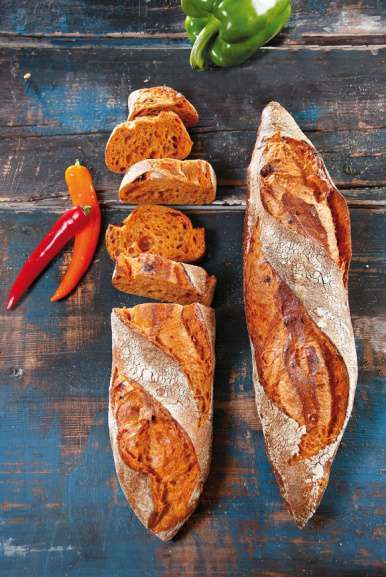 Ingredients
Click
to Add/Remove item to your
Shopping List
'Chill Bill' Baguettes using IREKS Craft Malt
Email Recipe
Download Recipe
Print Recipe
IREKS Craft Malt is an Aromatic malt blend for individual malt baked goods. Try out this recipe for delicious malted chilli bread.
Method
Mixing time: 2 + 6 minutes

Dough temperature: approx. 25° C

Bulk fermentation time: approx. 10 minutes

Scaling weight: 0.350 kg

Intermediate proof: none

Processing: baguettes

Final proof: approx. 90 minutes

Baking temperature: 230° C, giving steam

Baking time: approx. 30 minutes

Instructions for Use
Processing as usual for baguettes. Then cut the upper surface of the dough pieces, put into the refrigerator on floured fermentation boards with the cut downwards and allow to prove in a controlled way the next day. Place the dough pieces on setters at almost full proof and load giving steam.