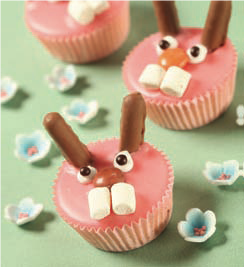 Ingredients
Click
to Add/Remove item to your
Shopping List
Email Recipe
Download Recipe
Print Recipe
Method
Place Lemon Sensations mix into mixer. Slowly add liquids and mix for one minute on 1st speed followed by 2 minutes on 2nd speed.

Deposit 30g of batter into paper cases.

Bake at 180ºC (360ºF)/155ºC fan oven for approx. 25 minutes.

Finishing: Once cool, flood cupcake with melted 5th Avenue® Strawberry Icing, pipe "eyes" using White and Dark Chocolate Icing, arrange marshmallows and biscuits as in picture.