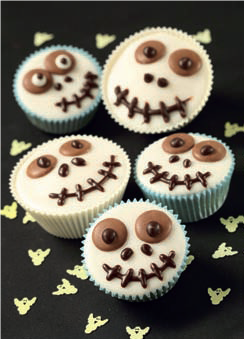 Ingredients
Click
to Add/Remove item to your
Shopping List
Email Recipe
Download Recipe
Print Recipe
Method
Place cake mix into mixer, add water and oil and mix for 1 minute on 1st speed.

Scrape down and mix for 4 minutes on 2nd speed, followed by 1 minute on 1st speed.

Deposit 30g of batter into cupcake cases and bake at 185°C (370°F) for 25 minutes.

Once cool, flood cupcake with heated 5th Avenue® White icing. When set, decorate with chocolate buttons and 5th Avenue® Dark Chocolate Icing (see picture).